Discover more from The First Call | Extra
Your weekly recap of the golf industry — and a bit more
Over 2,000 subscribers
Of Ryder Cup Selections, Gambling And Style
+ Getting a head start for the championship.
---
ON THE TEE
🏌️ After the BMW Championship, Brooks Koepka slipped out of top six automatic Ryder Cup qualifiers and now must depend on a captain's pick from Zach Johnson. Is Koepka a lock?
🏌️ Brandel Chamblee says Koepka shouldn't be on the U.S. Ryder Cup team. Scottie Scheffler and Brian Harman — who will actually be on the team — say Koepka belongs. Whose opinion matters more?
🏌️ Max Homa was yelled at in his backswing by a fan at the BMW Championship over what he says was a $3 bet. How long before the outcome of a tournament could be affected by a fan over a $3,000 or a $30,000 bet?
🏌️ PGA Tour commissioner Jay Monahan insists he is confident that a mutually beneficial deal with LIV Golf and the DP World Tour will be completed. Is it a problem that no one knows what that might actually look like?
🏌️ Monahan says the Tour plans to play its 2024 season opener at Kapalua on fire-ravaged Maui — if invited. Is that really a good idea?
🏌️ Nick Dunlap now has a Tiger Woods double by being the only other player to win both the U.S. Amateur and the U.S. Junior. However, Tiger won three straight U.S. Juniors followed by three straight U.S. Amateurs. Puts things in perspective, doesn't it?
🏌️ Sen. Richard Blumenthal (D-Conn.) is demanding that Yasir Al-Rumayyan, the governor of PIF — and potential new PGA Tour Policy Board member — testify before his subcommittee. Is that really necessary? Or is it political posturing?
🏌️ Now, gambler Billy Walters has accused Phil Mickelson of having an attorney illegally launder his gambling proceeds. Should we be so quick to give credibility to a gambler and convicted felon who is trying to settle some scores?
🏌️ Because the Tour Championship's starting scores really turn it into a handicap event, can the PGA Tour — and its players — be critical of any other tour's format?
:: Mike Purkey
---
FEATURES
BOOKMARKED
Good reads that are mainly about golf, but not always.
📖 How Chuck Norris Facts gave birth to the modern meme
:: Ryan Hockensmith | ESPN | 08.23.2023
📖 Hometown heroes the first Little League World Series, in 1947, was won by williamsport's own
:: Robert Strauss | Sports Illustrated | 08.25.97
📖 The heartrending tale of Kitt the police dog and his human partner
Braintree officer Bill Cushing needed a partner. Kitt, an expertly trained German Shepherd, needed a purpose. Together, they rescued each other
:: Dave Wedge | Boston | 08.10.23
---
PERFECT PUTT
How the FedEx Cup bonus works
Players are paid in a mix of cash and deferred compensation
:: Jared Doerfler | Read

Each Monday, Jared Doerfler breaks down the business of golf. Subscribe to Perfect Putt here.
---
SCORECARD
1️⃣8️⃣ The golf industry's week in review — the names, news and notables that are making the headlines. :: Read
---
---
DESIGN NOTES
Bobby Weed wows with Waynesville renovation
⛳️ Bobby Weed Golf Design carefully balanced restoration and renovation in repurposing the 27-hole Waynesville Inn and Golf Club into an 18-hole resort facility. The result was the recent reopening of the western North Carolina routing that is set amid the Blue Ridge Mountains.
The project also included a new wedge course, driving range, short game complex, lighted Himalayan putting green, golf cottages and numerous parcels for future development.
"The Waynesville Inn and Golf Club's new routing is compelling, memorable and avoids repetition," Bobby Weed said. "Quality courses should have a rhythm of scoring opportunities and challenges. The design variety should also provide different hole shapes, distances and shot options for the player to discern. We accomplished these goals during our renovation."
Located 30 miles west of Asheville, the Waynesville Inn and Golf Club was founded as Waynesville Country Club in 1926. The former dairy farm was converted into a nine-hole golf course and boutique inn. Donald Ross designed the original Carolina 9. Two more nines were constructed in 1929 (Dogwood) and 1986 (Blue Ridge) as land became available.
In April 2021, the club's new ownership group, Raines, hired Bobby Weed Golf Design to repurpose the entire property. The goal was to build a best-fit 18-hole course, practice facilities and related hospitality services, while planning for future development opportunities with higher land value uses. The following elements were included:
> The Ross Nine: BWGD respected the original front nine routing in the newly named Ross Nine. The picturesque, compact set of holes weaves across a valley floor, flanked by streams, evergreens and deciduous trees while surrounded by mountains.
Weed's sympathetic restoration brought back many of Ross' design intents. Yardage was added where possible, while maintaining the charm and playability of the former layout. The difficulty of the front nine remains reminiscent of the small greens, short-cut surrounds and bunkering that add interest and strategy in such a fashion that Ross would approve of for today's play.
Weed cleverly transformed the first tee box of the par-35 Ross Nine into a multi-use space. Eleven thousand square feet of tightly mown bentgrass lawn will serve as both a teeing ground and outdoor event space adjacent to the resort.
The routing is well-suited for walking. Greens and tees are close in proximity and strategically positioned for all skill levels. In-play areas (tees, fairways, greens) consist of bentgrass varieties. Turf-type tall fescues comprise the roughs. Mixtures of fine fescues on hillsides and out-of-play areas add contrast and frame the perimeter of the property.
> The Weed Nine: The new back side is a nine-hole composite layout that consolidates 18 holes from the Dogwood and the Blue Ridge routings. The former holes not utilized were converted into practice areas and future residential development pods.
BWGD's transformation of two nines into one allowed the firm to create a conspicuous, eye-catching set of mountainous holes with panoramic views. The par-36 Weed Nine features more rolling topography and greens shaped with gentle slopes and falloffs to closely resemble the Ross Nine.
> Wedge Park: An out-and-back Wedge Park short course was tactically designed between the first- and 18th-hole fairways. Situated near the Inn, this design is ideal for short-game training, after-round play and family fun.
> Practice Facilities: The practice area is highlighted by an 18,000-square-foot Himalayan putting course. Designed with moderate slopes, swales and plateaus, the free-range green offers fun entertainment during practice sessions and putting contests. It will be lighted for night use. A new driving range, chipping and bunker complex were also constructed.
> Resort Revival: The 32-room Inn was overhauled with contemporary amenities that preserve the spirit of the original 1920s design. More lodging options are nestled in the revitalized 28-room Golfview and 12-room Brookside lodges. The guest experience will further be enhanced with a new-look pro shop, lobby, fitness center, pool and areas for meetings and events.
> Repurposing: A key element in the land plan, led by Weed and design associate Joey Graziani, was identifying a new 10-acre infill parcel within the development. On three acres, eight newly constructed four-bedroom, four-bathroom golf cottages will reside. These cottages will be available to rent when not in use by private owners. Along the 10th and 12th hole fairways, development parcels have been earmarked for future mountain bungalows and single-family homes.
"My wife, Leslie, has generational ties to Waynesville that date back over 100 years," Weed said. "As long-time seasonal residents, this was a dream come true to personally steer the club in a new direction for future generations."
Bobby Weed Golf Design has extensive knowledge of preserving and improving Donald Ross designs. Other Ross layouts that the firm has restored include Linville Golf Club, Myers Park Country Club, Palatka Golf Club, Palma Ceia Golf and Country Club, Timaquana Country Club and the University of Florida's Mark Bostick Golf Club.
READ: This week's complete Design Notes
RELATED: Design Notes archive
---
---
LIFESTYLE
THE STYLE LINKS
TravisMathew Women's on Instagram: "Your round might suck, but your outfit doesn't have to. 😉 Tag a friend who can use the reminder. Shop the outfit by tapping the picture!"
Pretty much sums up my round today. Consolation? I still looked good.
:: Janice Ferguson | IG: @janiceferguson_thestylelinks
---
19TH HOLE
Each episode of the "Course of Life" podcast closes with the guest sharing a favorite 19th hole experience.
Remec Carlson, pro golfer and content creator for "CEO of Golf": "I like a nice big pile of chicken nachos with pico, guac, sour cream … everything."
:: Alex Lauzon | Co-host of "Course of Life" podcast
---
HOME FRONT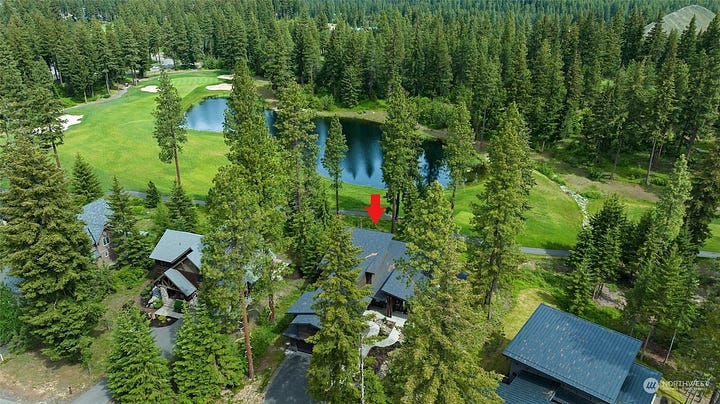 Suncadia | Cle Elum, Washington
Address: 281 Spragger Way
Stats: 3,933 square feet | 5 bedrooms | 6 bathrooms.
Price: $3,100,000.
About: This home located within Suncadia Resort is ideal for the golf fanatic. Located on Suncadia's Rope Rider course's ninth hole, this home also boasts an indoor golf simulator for year-round play. The primary suite is on the main floor with three bedrooms and there is a bonus room upstairs. It's also located just a stone's throw away from Battista Park and Swiftwater Winery, an ideal central location to all of Suncadia's premier amenities. Suncadia Resort is a 6,400-acre, all-season resort community 80 miles from Seattle. On the sunny side of the Cascade Mountains with an array of outdoor activities, the property has three championship golf courses, several casual and fine dining restaurants, and a world-class spa. The Inn at Suncadia is an intimate wilderness getaway with a Northwest-style design, while The Lodge at Suncadia sits high above the Cle Elum River with panoramic views.
---
---
SUBSCRIBE | FOLLOW
The First Call [Monday-Friday edition]: Subscribe
Facebook | Instagram | Linkedin | Twitter