Discover more from The First Call | Extra
Your weekly recap of the golf industry — and a bit more
Over 2,000 subscribers
How You Can Become A Course Designer
+ When in Rome ... who will win the Ryder Cup?
---
ON THE TEE
🏌️ Time was, the Ryder Cup was the biggest event in golf and one of the biggest in sports. Is that still the case?
🏌️ U.S. Solheim Cup captain Stacy Lewis said a marketing opportunity was missed to promote her event and the Ryder Cup in back-to-back weeks in Europe. Is she right?
🏌️ Who will be under more pressure to perform next week: Rory McIlroy or Justin Thomas?
🏌️ Danielle Kang's clubs were lost by Delta and KLM while on their way to Spain for the Solheim Cup. They finally arrived — with little time to spare — but is it time for golfers everywhere to stop trusting the world's airlines with their clubs?
🏌️ Sophie Spieth — the second child of Annie and Jordan — had the impeccable timing to be born earlier this month, so her dad could still play in the Ryder Cup. Had Sophie's arrival been delayed, who would captain Zach Johnson have chosen to replace Spieth?
🏌️ Phil Mickelson responded to reports of his deep and wide gambling habit with a lengthy post on X (formerly known as Twitter), saying he is in recovery from his addiction. Does he deserve the benefit of the doubt?
🏌️ Tiger Woods and Justin Timberlake partnered to open a bar in New York. Would Tiger's name — or Timberlake's — cause you to drop by and buy overpriced drinks there?
🏌️ New Zealand's Ryan Fox won the BMW Championship last week at storied Wentworth. Is Fox the most underrated player in the game? Is there any chance he will be left off the next International Team at the Presidents Cup?
🏌️ Gary Woodland underwent surgery that removed what doctors said was the "majority" of a brain tumor. Please send your thoughts and prayers, no questions asked.
:: Mike Purkey
---
---
FEATURES
What would Donald Ross think?
2K Games' PGA Tour 2K23 Course Designer mode gives users the ability to imagine and build their own courses — some to stunning detail
:: Ken Klavon | Read
---
BOOKMARKED
Good reads that are mainly about golf, but not always.
📖 Lucinda Williams and the idea of Louisiana
After the release of Lucinda Williams' memoir, "Don't Tell Anyone the Secrets I Told You," Wyatt Williams explores the family stories, Southern territory, and distortions of memory that her songwriting evokes.
:: Wyatt Williams | The Bitter Southerner | 09.05.2023
📖 Chaos, comedy, and 'crying rooms': Inside Jimmy Fallon's 'Tonight Show'
Sixteen current and former staffers say Fallon's erratic behavior spoiled their "dream" of working on The Tonight Show
:: Krystie Lee Yandoli | Rolling Stone | 09.07.2023
📖 The wild quest to create a fake Indian cricket league ... that was just the beginning
With a scruffy lot and an audacious sense of ambition, an Indian villager created — and broadcast — a rigged cricket league to rip off online bettors. It looked small-time, but something bigger was going on
:: Sean Willams | Sports Illustrated | 09.15.2023
---
---
SCORECARD
1️⃣8️⃣ The golf industry's week in review — the names, news and notables that are making the headlines. :: Read
---
PERFECT PUTT
The golf instruction market is worth over $1 billion
Golf Instruction plays a key role in the growth of the industry
:: Jared Doerfler | Read

Each Monday, Jared Doerfler breaks down the business of golf. Subscribe to Perfect Putt here.
---
---
LIFESTYLE
THE STYLE LINKS
Lululemon's fall 2023 collection features several transitional pieces that can go from gym wear to street wear with a simple change of a top or addition of a jacket. 
:: Janice Ferguson | IG: @janiceferguson_thestylelinks
---
19TH HOLE
Each episode of the "Course of Life" podcast closes with the guest sharing a favorite 19th hole experience.
Lucas Beaudoin, the director of magic at Liberty National Golf Club in Jersey City, New Jersey: "Well, I am vegan so my answer might be a little different than most, but I've had some Buffalo Cauliflower at Liberty National that is really good."
:: Alex Lauzon | Co-host of "Course of Life" podcast
---
HOME FRONT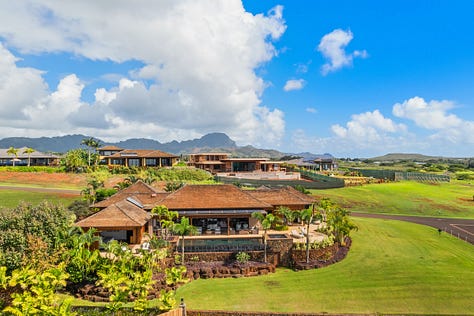 Kukui'ula | Kauai, Hawaii
Listing: Kahalawai Custom Home No. 70.
Stats: 3,956 square feet interior, 530 square feet covered lanai, 1,692 squate feet lanai space of each bedroom | 4 bedrooms | 4.5 bathrooms.
Price: $9,800,000.
About: Set on a scenic overlook with 180-degree views of tropical sunsets and star-lit nights in the upper reaches of Kahalawai, Hawaii, this welcoming home offers a seamless transition between spacious indoor and outdoor spaces. Throughout the home, there's a thoughtful blend of tradition and modern, including sculpted river rock walls, artisan tiles and finely crafted fixtures. At the social heart of the home is a custom kitchen, designed with the best cooks in mind, and an ocean-inspired sculpted glass counter to seat guest. Full width retracting glass doors in the great room expand the living and entertainment area to the covered lanai, outdoor kitchen and bar, spa and infinity pool. Home to gracious primary and guest suites, the custom finishes, paired with well-appointed bathrooms, outdoor showers, private lanais and ocean views make for ideal personal space. Energy and comfort are maintained through a zoned climate control and 18 panel solar system. The oversize garage, large laundry room, pantry and solar water heater complete everyday necessities. Nearly an acre in size, this hillside homesite is rooted in a mature island landscape of hand-built stone walls, pathways, water features and local fauna designed for low maintenance. The spacious corner location has ample room if you desire additional living space or an Ohana unit in the future. As for the golf, this Tom Weiskopf-design layout is know for its breathtaking views of the Pacific Ocean and is considered on the state's finest. The course is superbly playable for all levels of golfers with wide fairways and soft paspalum-turf to give players tempting lies to test their shot-making skills. The greens are massive, undulating and can be a bit tricky as Weiskopf used small mounds to make golfers think a little harder about the breaks.
---
---
DESIGN NOTES
Andew Green sets sail on an East Lake restoration
⛳️ Just hours after Viktor Hovland collected his $18 million check for winning the PGA Tour's Tour Championship at Atlanta's East Lake Golf Club, the fabled venue shut down for a comprehensive makeover.
Under the direction of architect Andrew Green, the course will be closed for nearly a year to bring back its Golden Age playability and aesthetics to again resemble the layout where Bobby Jones learned the game.
For such a heralded club, East Lake's golf course has quite a convoluted history. Then known as the Atlanta Athletic Club, the course opened as an 18-hole layout in 1908 designed by pioneering American architect Tom Bendelow. That version was almost entirely discarded when Donald Ross redesigned it in 1913.
Since that time, tees, fairway corridors and green complexes have kept their locations, but lost their resemblance. George Cobb remodeled the course ahead of its hosting the 1963 Ryder Cup and Rees Jones performed a substantial makeover (and partial restoration) in 1994. Although Green has yet to reveal detailed plans, he undoubtedly won the bid due to his prowess with recreating Ross-infused magic at such courses as Oak Hill (East), Wannamoisett, Inverness and Scioto.  
East Lake general manager Chad Parker explained that the new work was prompted by the necessity of an infrastructure overhaul — greens, bunkers and irrigation, since it had been 29 years since such work was last performed. As long as the course was going under the knife, the club figured it should explore what else was out there, what other thinking was out there. The club chose Green and his vision for what could be possible.    
Green is taking many of his cues from a recently discovered 1949 aerial photo of East Lake. As with many Southern clubs of that era, East Lake's green complexes featured two greens per hole, one with a warm weather grass (Bermuda) for summer play and a cool season grass (bent) for winter play. Cobb combined them in his early 1960s renovation.
Green will endeavor to instill Ross-worthy contours and expand their dimensions. He will also likely lower many greens and refine the bunker stylings, not only their shaping and placements, but in their sizing, in many cases eliminating portions of the bunkers that block green entrances. This will allow more running/ground game options to access the putting surfaces.
Adding length where possible, removing trees and replacing greenside rough with short-cut areas are further changes in store. After touring Green's other successful efforts with Ross courses, East Lake officials decided that their new greens will attempt to emulate what they saw at Rhode Island's Wannamoisett and the bunkers will embrace the stylings of Ohio's Inverness. 
Among the major changes, the green at the par-3 ninth will be lowered and shifted to the left, not only to bring the water more into play, but improve the amount of sunlight and air circulation it receives. Many more small changes will take place in the field.
"East Lake Golf Club is at the heart of golf," Green said. "Its legacy encompasses all that is great about the game and its history. From fostering Bobby Jones and Alexa Stirling to shaping its neighbors in Atlanta with the vision of Mr. Cousins to hosting the world's best in the Tour Championship, the mission of East Lake has always portrayed excellence and purpose. As we strive to further connect the golf experience to the foundation set forth by Donald Ross and protect the course for decades to come, I look forward to working with the membership and leaders of the club. It is a tremendous honor and I can't wait to uncover the journey ahead."  
READ: This week's complete Design Notes
RELATED: Design Notes archive
---
---
ICYMI
This week's editions of The First Call:
Monday | Tuesday | Wednesday | Thursday | Friday
---
---
SUBSCRIBE | FOLLOW
The First Call [Monday-Friday edition]: Subscribe
Facebook | Instagram | Linkedin | Twitter