Discover more from The First Call | Extra
Your weekly recap of the golf industry — and a bit more
Over 2,000 subscribers
ON THE TEE
🏌️ The elephant in the U.S. Ryder Cup team room is captain's pick Justin Thomas, who is in the midst of his worst year as a professional. Is Thomas vital to this team or was this a buddies' pick?
🏌️ Brooks Koepka is the only LIV Golf player on the U.S. Ryder Cup team. Should there have been more LIV players? None? Or was this pick just right?
🏌️ Who was the biggest Ryder Cup snub: Keegan Bradley, Cameron Young or Lucas Glover?
🏌️ Did Viktor Hovland's dominating performance in winning the Tour Championship and FedEx Cup make Europe's Ryder Cup team stronger and increase its chances of winning?
🏌️ Sunday TV viewership of the Tour Championship was the best since Tiger Woods won in 2018. Does that mean viewers have embraced the format or are just tolerating it?
🏌️ The Daily Mail of London is reporting — with a fair amount of detail — that the PGA Tour, LIV Golf and the DP World Tour will combine for an 18-event global series starting in 2025. No official confirmation or denial yet, but is it now time for the rumor mill to start churning?
🏌️ Eugenio Chacarra won the Asian Tour's International Series St. Andrews Bay Championship after a 10-hole playoff against fellow LIV player Matt Jones that took two hours, 8 minutes to complete. How long would it have taken if it had been someone else besides Jones, who is golf's fastest man?
🏌️ Vijay Singh was handed the Ally Challenge title on the PGA Tour Champions after a five-putt triple bogey on the 17th hole by leader Paul Goydos. I miss, I miss, I miss, I miss, I make?
🏌️ Former Golf Channel and Fox broadcaster Holly Sonders has started a "topless sports league" called Exposed Sportz. "I know what people want to see," she says. Wait, what?
:: Mike Purkey
---
FEATURES
Golf's Hall of Fame closes doors in Florida
The World Golf Hall of Fame's St. Augustine, Florida, site is closing after 25 years and will reopen in a markedly downsized Pinehurst location in spring 2024
:: Ward Clayton | Read
From protege to mentor: The evolution of Bobby Weed
Across the course designer's more than 40-year career, inspiration and lessons from his first mentor, Pete Dye, have guided his hand — and his bulldozer. Now, he's paying it forward
:: Shaun Tolson | Read
---
BOOKMARKED
Good reads that are mainly about golf, but not always.
📖 The best U.S. Walker Cup team in history also might have been the most contentious
Crazy behind-the-scenes stories from the last Walker Cup played at the Old Course
:: John Huggan | Golf Digest | 08.30.2023
📖 Why Bill Watterson vanished
The creator of Calvin and Hobbes is back, but the mystery is why he disappeared in the first place
:: Nic Rowan | The American Conservative | 08.14.2023
📖 Tuning in Dandy Don
By marrying television, football gained an audience but lost a game
:: Sherry Kafka | Texas Monthly | 02.1973
---
---
PERFECT PUTT
Links Golf Club wants 100,000 members
Links Golf Club has a unique take on building a golf club
:: Jared Doerfler | Read

Each Monday, Jared Doerfler breaks down the business of golf. Subscribe to Perfect Putt here.
---
SCORECARD
1️⃣8️⃣ The golf industry's week in review — the names, news and notables that are making the headlines. :: Read
---
---
LIFESTYLE
THE STYLE LINKS
Looking good for the Solheim Cup, red, white and blue.
:: Janice Ferguson | IG: @janiceferguson_thestylelinks
---
HOME FRONT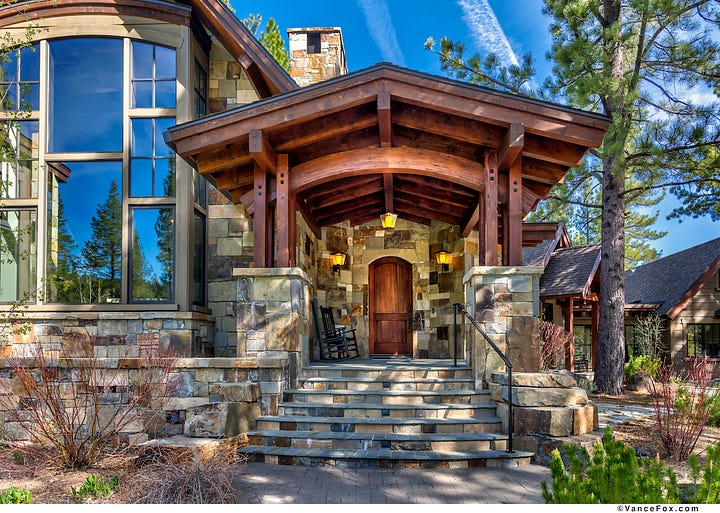 Martis Camp | Truckee, California 
Listing: Home 490.
Stats: 9,024 square feet | 2.4 acres | 6 bedrooms | 6 bathrooms | 2 half baths.
Price: $15,795,000.
About: This Martis Camp estate's layout is quite impressive — both indoors and outdoors. It sits on 2.4 acres with a gallery view of the 12th fairway of the Tom Fazio-designed Martic Camp course, which hosted the 2023 U.S Senior Amateur. Inside, beyond the foyer, a fireplace is prominent and is a harbinger of the home's warm personality. Stage left of the hearth is a great room with towering windows, heated wood floors, and a peaked ceiling accented by bold, arching beams. Mirroring this room is a nearby family room with a fireplace, wood-fire pizza oven, a bar, billiards table and pocket doors that disappear from sight — opening this room to a back patio with hot tub, creek and forest views. The patio wraps around to a covered and heated dining area with pocket doors, barbecue bay, free-standing fireplace and inspiring private views. A custom staircase winds its way upstairs to a bedroom with southern exposure, a kids' lounge with deck, big screen TV and a loft for curious minds. The hallway leads on with bunkrooms left and right of one another and — further on — a music room and art room whose peaked ceilings and sun-filled windows stir the creative ways of young and old alike. Martis Camp is the ultimate year-round Tahoe retreat. Generations gather together at the Family Barn — with a bowling alley, swimming pool, theater and soda fountain — and relax at the Camp Lodge with fine dining, a fitness area and spa.  Martis Camp's miles of hiking trails wind through the pristine Tahoe wilderness. Also, there is easy access to Tahoe's abundant outdoor activities, including biking, boating, river rafting and horseback riding.
---
---
DESIGN NOTES
Jerry Pate to restore the bite to Teeth of the Dog
⛳️ One of the world's top 50 courses, Casa de Campo Resort's Teeth of the Dog, is on tap for what the property calls a "facelift" in 2025. All previous updates were performed by original architect Pete Dye, who passed away in 2020. Dye considered the 1971 creation to be his very favorite of all the courses he designed. Jerry Pate, along with his senior designer Steve Dana, will handle the work.
With seven holes set on the edge of the Caribbean Sea, Teeth of the Dog is not only ranked as the best course in the Dominican Republic, but it's judged to be among the most spectacular in the world. Pate, who has dozens of course design or co-design credits to his name, has enjoyed a long association with Casa de Campo, including a role as consultant for design changes to all of the resort's courses. He first became acquainted with Teeth of the Dog when the course played host to the 1974 World Amateur Team Championship for the Eisenhower Trophy. The United States won the competition and Pate led the four-man team as low scorer, earning co-medalist honors overall.
Tees, fairways and greens will be regrassed with Pure Dynasty paspalum, a turf product that features exceptional saltwater tolerance, and the entire course will be sand-capped to ensure enhanced drainage and soil depth. Bunkers will see drainage improvements as well. Tees will be leveled and cart paths repaired. Actual design tweaks will be minimal, other than lengthening a handful of holes.
Other developments in progress at Casa de Campo include adding nine holes (from neighboring La Romana Country Club) to the 27-hole Dye Fore layout; planning the creation of a par-3 layout near its Dye-designed Links course; and the addition of a Himalayas-style putting green adjacent to the Teeth of the Dog.
READ: This week's complete Design Notes
RELATED: Design Notes archive
---
---
SUBSCRIBE | FOLLOW
The First Call [Monday-Friday edition]: Subscribe
Facebook | Instagram | Linkedin | Twitter