Discover more from The First Call | Extra
Your weekly recap of the golf industry — and a bit more
Over 2,000 subscribers
A Logo On A Hat Can Speak Volumes
+ The Lucas Glover conundrum.
---
ON THE TEE
🏌️ Lucas Glover rose from the ashes, armed with a new broomstick putter, to win two events in a row on the PGA Tour. Brad Faxon believes Glover is a no-brainer captain's pick for the U.S. Ryder Cup side. Agree?
🏌️ Cameron Smith won for the second time in three events in 2023, a whopping seven-shot victory at LIV Golf Bedminster. Is he LIV's best player?
🏌️ Two shots behind Smith in the final round at Bedminster on the tee at the par-3 7th, Phil Mickelson fired at the flag and hit two in water, leading to an 8 and the end to his tournament chances. What was that about leopards and their spots?
🏌️ Gambler Billy Walters alleged in his book that Mickelson wanted to bet on the 2012 Ryder Cup, in which he was a competitor. Mickelson says he didn't make the bet. However, he didn't deny he wanted to, did he?
🏌️ Lanny Wadkins on Golf Channel criticized Mickelson's gambling and said he believes Mickelson thinks he is "bigger than the game." Wasn't Wadkins was notorious for his Tuesday gambling games when he played on Tour? Does the definition of gambling depend on the amount?
🏌️ U.S. Ryder Cup captain Zach Johnson said he didn't necessarily want the 12 best American players on his team, instead looking for "12 guys in a locker room that want to be around each other." Since when has that been a winning strategy?
🏌️ If Johnson would happen to look for the 12 best players, LIV competitors think they have at least a couple in Brooks Koepka, Dustin Johnson (5-0-0 in 2021), Talor Gooch (3 LIV wins), Patrick Reed and Bryson DeChambeau. Besides Koepka, who is likely an automatic qualifier, do any other LIV players deserve a captain's pick?
🏌️ Lexi Thompson hasn't won on the LPGA Tour since 2019 and is No. 157 on the Race to the CME Globe. She says not to worry. "I've just been trying to enjoy my life and take some more time for myself," she said. OK?
🏌️ Has all the noise in professional golf diminished the interest or the importance of the U.S. Amateur?
:: Mike Purkey
---
FEATURES
MegaCorp's right place, right time good fortune
The North Carolina-based logistics company scored big when Brian Harman won the British Open wearing its relatively unknown logo prominently on his hat
:: Ward Clayton | Read
---
BOOKMARKED
Good reads that are mainly about golf, but not always.
📖 What happened in Vegas
Jimmy Hoffa and his brotherhood in the city of sin
:: David Hill | The Baffler | 08.2023
📖 A living history of the humble paper airplane
For centuries, paper airplanes have unlocked the science of flight—now they could inspire drone technology
:: Sarah Wells / Jennifer Leman | Popular Mechanics | 08.09.23
📖 The true story of a golf pro's lies, fraud, threats and tales of murder
:: Joel Beall | Golf Digest | 08.11.23
---
PERFECT PUTT
A 6-month check in: The golf industry
Over 100 million people are engaged in golf globally
:: Jared Doerfler | Read

Each Monday, Jared Doerfler breaks down the business of golf. Subscribe to Perfect Putt here.
---
SCORECARD
1️⃣8️⃣ The golf industry's week in review — the names, news and notables that are making the headlines. :: Read
---
---
LIFESTYLE
THE STYLE LINKS
FootJoy on Instagram: "The Most Comprehensive Lineup in Performance Golf Rainwear. 🌧️
#HydroSeries
"
FootJoy continues its commitment to "Make Every Day Playable" by offering a new and complete golf rainwear lineup proven to perform in the harshest conditions. The HydroSeries line of rain jackets are designed to protect players in everything from light mists to heavy downpours.  
:: Janice Ferguson | IG: @janiceferguson_thestylelinks
19TH HOLE
Each episode of the "Course of Life" podcast closes with the guest sharing a favorite 19th hole experience.
Paul Gillmon, Horizon Irish Open tournament director: "Oh yes … it will have to be a burger and chips. A classic. To drink? Usually a Heineken. Can't go wrong there."
:: Alex Lauzon | Co-host of "Course of Life" podcast
---
HOME FRONT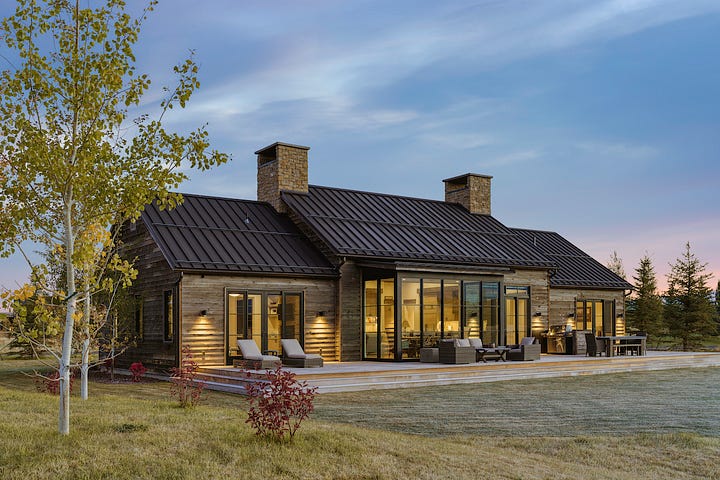 Tributary | Teton Valley, Idaho
Address: 900 Mountain Bluebird Court.
Stats: 3,250 square feet | 4 bedrooms | 4.5 baths.
Price: $3.5 million.
About: This Tributary Cabin is derived from the rustic homesteads found in the surrounding valley. Authentic materials, walls of glass and generous living spaces define this quintessential family retreat at Tributary. A basecamp for adventure seekers, Tributary's 1,500-acre, low-density community offers a one-of-a-kind setting rich in wildlife, ponds and wetlands and mountain town culture. In designing the community's golf course, Tributary, David McLay Kidd complemented the natural beauty of the surrounding landscape in an exciting and environmentally conscious way that offers a challenge to golfers. Woven through the championship course are 50 acres of wetlands that provide habitat for native flora and fauna. The Big Hole and Teton mountains rise in the distance from nearly every angle, and there is a breathtaking shot at the 16th hole where golfers tee off toward the Grand Teton. 
---
---
DESIGN NOTES
Cabot Highlands proceeds with Tom Doak course
⛳️ The Cabot Collection recently unveiled development updates at Cabot Highlands in Inverness, Scotland, including the routing plan for its new Tom Doak golf course set to open for preview play in 2024. Following Cabot's acquisition of the iconic Castle Stuart Golf Links and surrounding property in summer 2022, plans have been put in place for new real estate opportunities, an expanded 11,000-square-foot clubhouse with new dining areas, and new programming.
The development's existing top-100 Castle Stuart course, designed by Mark Parsinen and Gil Hanse, now includes signature Cabot couches off the 18th green and biscuits on the first tee. Guests at this Scottish Highlands property can stay on-site in the Golf Lodge or the Farmhouse. Each provides accommodations for up to eight people.
Construction is now underway on the new 18-hole Doak course, a layout intended to harken back to the feel of a course that players could experience 200 years ago. Designed around a 400-year-old castle, the course will incorporate natural contours as it meanders through hillsides and expansive open land with several holes along the water. The opening is slated for 2025.
"As architects, our greatest joy is to try and sort out the best way to have fun over a raw piece of ground, but the ultimate success would be to leave the golfer the same sort of puzzle," Doak said.
Construction on the clubhouse is expected to commence this fall, while sales for real estate will begin in early 2024. Each is expected to reach completion in spring 2025. Real estate will feature cottages with upscale, modern touches inspired by the landscape of the Scottish countryside. Up to 25 new accommodations are expected to be built as part of this development.
When homeowners are not in residence, their homes will be available as luxury accommodations for visiting guests. The new clubhouse will feature a whisky and cigar bar, clubhouse grill bar and a chophouse restaurant on the middle floor. Cabot Highlands will be complete with new retail, locker rooms and communal gathering points.
"In the historic home of golf, we looked to Tom to create something special, and perhaps unconventional by modern standards. His vision of resurrecting an old true links-style course will serve as a great complement to the beloved Castle Stuart Golf Links," said Ben Cowan-Dewar, CEO and co-founder of Cabot. "We hope to create an awe-inspiring destination anchored by incredible golf that will stand the test of time for generations to come."
Cabot Highlands is located five minutes from the Inverness Airport and within driving distance from some of the most famous courses in the region, including Royal Dornoch, Nairn, Brora and Skibo Castle. The setting runs along the shores of the Moray Firth overlooking landmarks such as Kessock Bridge and Chanonry Lighthouse. Castle Stuart features holes framed by the water's edge on one side and bluffs on the other, with rumpled fairway contours and infinity-edged greens that seem perched on cliffs directly over the sea.
READ: This week's complete Design Notes
RELATED: Design Notes archive
---
SUBSCRIBE | FOLLOW
The First Call [Monday-Friday edition]: Subscribe
Facebook | Instagram | Linkedin | Twitter